Meet San Diego's next iconic urban village. A bold claim — but Millenia is a bold idea. It will be the new center of South County. Millenia is a unique mixed-use hub that embodies the new shift towards lifestyle-centric living. A blend of activities, ages, and all the perks of a thriving community, intelligently designed into 80 walkable city blocks — about the size of downtown San Diego.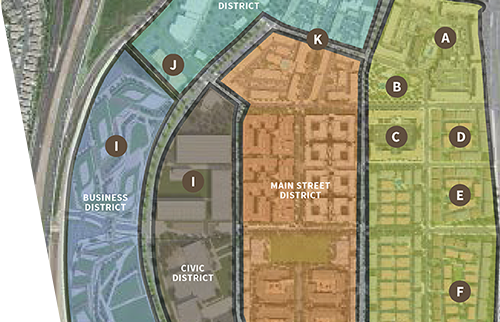 No matter where you live in Millenia, you're within easy walking distance to parks, promenades, shops, restaurants, and the local market. Millenia's various districts offer a unique lifestyle experience with distinct character and conveniences.
Millenia is a completely walkable community in Chula Vista, thanks to a grid of tree-lined pedestrian avenues. Meander through parks, promenades, gathering areas, and inviting gardens as you make your way around the districts, or walk to Otay Ranch Town Center across the street.
EXPERIENCE MILLENIA IN PERSON
Visiting each of our stellar builder's models homes and driving through our neighborhood is the best way to learn why Millenia is South County's new urban hub.
Download the map
.
THE CENTER OF SOUTH COUNTY
Think of Millenia as the final and integral piece of the puzzle in South County. Chula Vista is close to downtown San Diego, concert venues, the U.S.-Mexico border, and adjacent to major freeways.