As fall turns to winter, it's time to switch out the Halloween decorations for décor that celebrates the festive holiday season! Whether you love winter-themed décor or decorations that celebrate Christmas or Hannukah, there are lots of fun options for dressing up your front door to welcome the holiday season.
Easy Door Decorations You Can Buy Right Now
DIY decorating can be fun, but if you don't have the time—or just prefer to buy decorations rather than make them—there are all kinds of Christmas door decorations you can buy right now. If you choose items that are well-made, they'll last for years to come, so you'll save time during future holiday seasons too.
1. Full Door Covers That Make Decorating Easy
A door wrap or cover is the perfect easy Christmas door decoration for a busy family. The wrap is sized to fit your door and covers it entirely, making your decorating job quick and easy. Once you've mounted the cover over the door, you're done!
There are Christmas-themed door wraps to cover most standard door sizes, with lots of options to choose from. Whether you want a fun family-oriented design or something that's sleek and sophisticated, this option has you (and your door) covered.
2. Wreaths, Decals, and More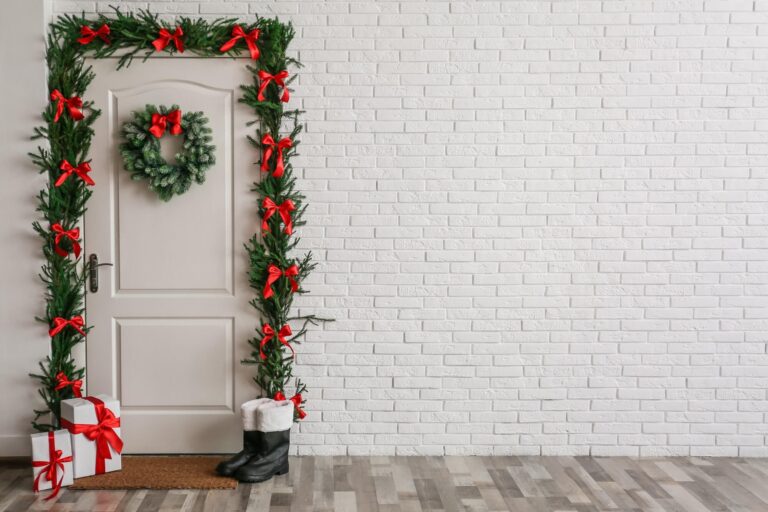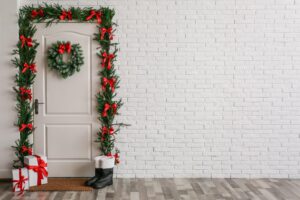 If a holiday door wrap doesn't appeal to you, there are plenty more Christmas door ideas to consider. Whether you love traditional Christmas decorations, winter-themed décor, or something else, there's a huge array of options to choose from. Hang a simple wreath, or go all-out with your holiday door decorations and hang as many items as you can fit on your door! Some options include:
Christmas or winter-themed wreaths
Decals
Temporary Christmas doorbell or buzzer
Streamers and banners in holiday colors
Light strings
When choosing items to display on your door, you might want to look for things that are easy to take down once the season is over. For instance, decals that peel off without leaving a sticky residue and items that you can hang using removable mounting hooks or strips make un-decorating a breeze.
3. Light It Up!
Holiday lights are a hugely popular addition to entryways across the country. They make everything merry and "bright!" Here are some ideas for adding lights:
Hang strings of lights above your front door to act as a frame.
Make light strings part of your door décor by using them to border the whole door.
Add a battery-powered string of lights to your front door wreath.
If you have shrubs or other plants in pots by your front door, wrap light strings around them, so they look like mini Christmas trees.
Create a snowfall on the front of your house using an LED snowflake projector light, like these projector lights from Home Depot.
Multicolored lights or solid blue or white lights can add seasonal cheer inside as well. Frame your fireplace or string them along the bannister of your stairs.
DIY Options for Christmas Door Decorations
If you have the time and enjoy making your own crafts, DIY Christmas door decorations can be a lot of fun. It's a great project to get the whole family involved with, and it means everyone can take some credit for the final result!
DIY can be as simple or as elaborate as you like. Pick up craft supplies and Christmas-themed ornaments and other items from a few stores that are just down the road from Millenia, like:
Cost Plus World Market at 1640 Millenia Ave.
Ross Dress for Less at 1650 Millenia Ave.
Home Goods at 1630 Millenia Ave.
Party City at 2015 Birch Rd. (Otay Ranch Town Center)
4. DIY Holiday Door Wrap
While many people opt to buy their door covers, it can be lots of fun to make your own. If you're feeling creative, you can design yours or use one of the many tutorials available online as a guide or inspiration. One popular method is to wrap the door so that it looks like a gigantic gift. Don't forget to top it off with a Christmas bow!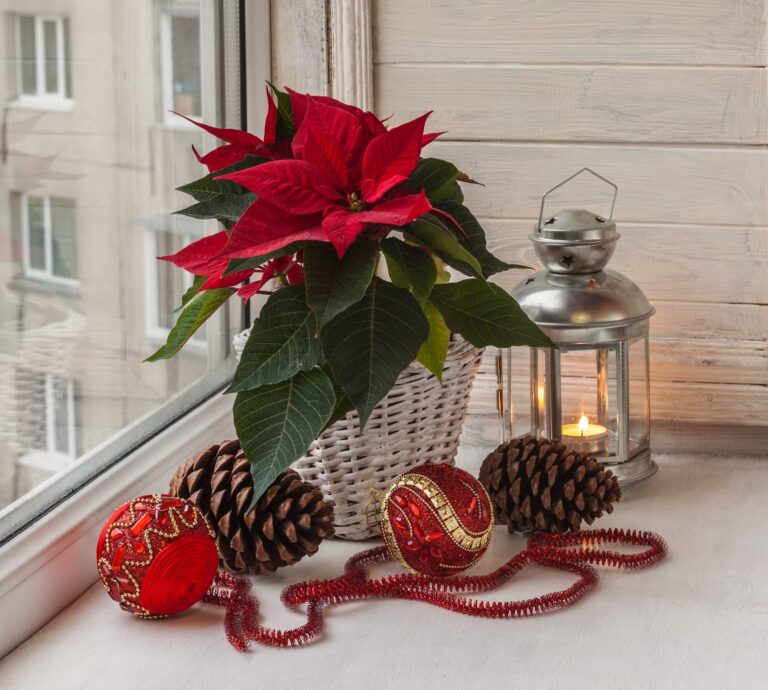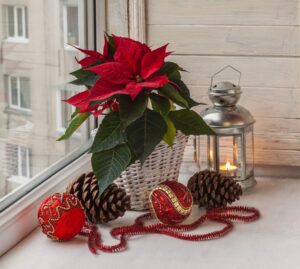 5. Make a Holiday Wreath (And More)
Christmas wreaths are a popular front door tradition, and with so much variety in how you can decorate a wreath, they can be a great way to show what the holiday means to you and your family. Go for a simple, natural look with a wreath of woven twigs or garden greenery, or make something sparkly and lush with ribbon and glitter.
In need of inspiration? Check out this gallery of more than 70 ideas for DIY Christmas wreaths. These prove you can make a wreath out of almost anything, including paper drinking straws and leftover toilet paper rolls!
You can stop there if you like to keep things simple, but if you want to add more Christmas door designs, you're only limited by your imagination.
Streamers
Paper chains
Garlands
Paper cutouts
Themed signs
These can all be made using basic craft supplies, such as paper or cardboard, markers, glitter, and glue.
6. Winter Wonderland—California-Style
Snow-themed Christmas decorations are perfect for states with cooler climates, but when you live in southern California, it's fun to choose something that's more relevant to the winter weather you're used to. Instead of snowy wreaths, pinecones, and ice-skating themes, why not make front door decorations that are all about the So-Cal winter season? For instance, decorate a wreath with shells from the beach, rather than pinecones and holly. Or make living garlands using California natives that flower in winter, such as the Eastwood Manzanita or Coast Barberry.

7. Let the Kids Take Over
For many families, Christmas is all about the kids. If that's how it is in your household, why not let them take the reins when it comes to your front door decorations? Provide them with craft supplies, and let them make whatever they can imagine! It's a fun way to help them get excited for Christmas, and they'll love having their creations displayed on the front door for everyone to see.
8. Design a Sleek and Sophisticated Holiday Door Theme
Many holiday decoration designs go for a family-friendly theme that's funny or cute, with Santa and reindeer, elves, and other traditional elements. But if you live in an adults-only household, you may prefer a different kind of design, perhaps one that's a little more sophisticated, or even minimalist.
One way to achieve this is to think in terms of color and shape, rather than traditional Christmas elements. For instance, rather than Christmas red and green, go for green and gold, or red and silver. These simple color pairings work well with a minimalist design theme with just one or two décor elements, rather than covering the entire door.
Don't Forget to Decorate Your Balcony Too!
Lots of the homes at Millenia have balconies. If that's you, don't neglect this blank canvas. Spread holiday cheer by trying one of these things: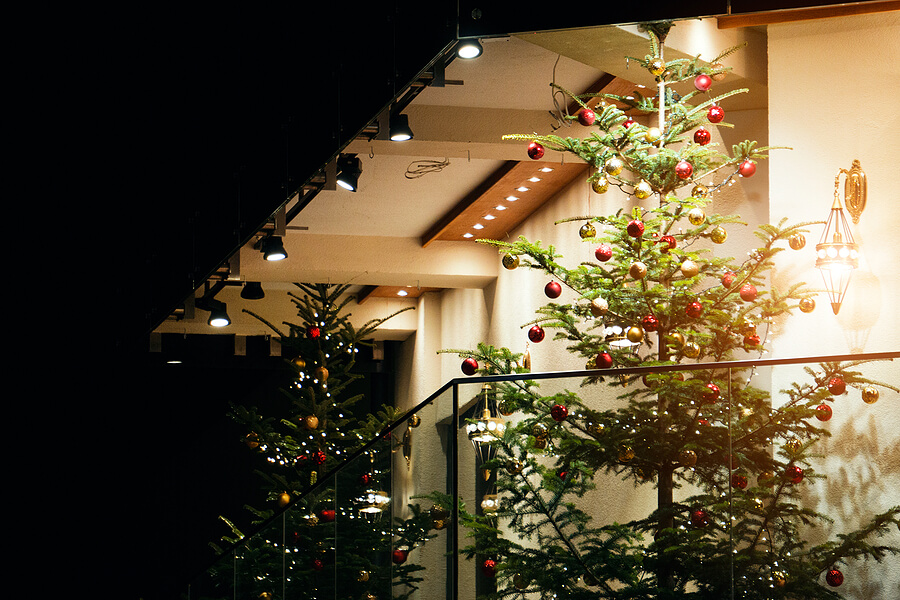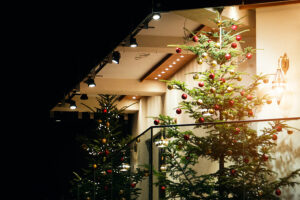 Wrap garlands or light strings around the balcony railing.
Set up a mini Christmas tree with lights and decorations.
Add some holiday plants, such as poinsettias or Christmas cactus.
Hang a wreath or other wall decorations.
Set out battery-powered candles to twinkle in the night.
Add a snuggly faux fur or faux mink blanket to create a cozy holiday space you can enjoy even when the weather gets cooler.
Whether you love traditional Christmas decorations or prefer a winter-themed approach to your seasonal décor, there's a near-infinite range of options to dress up your front door. Choosing or making Christmas door decorations is a great way to get the whole family involved and get everyone excited about the holidays.