Looking for delicious dining options in and around Millenia? These Chula Vista restaurants are sure to satisfy! You can enjoy great food at family and casual dining restaurants, plus a few special options for romantic date nights. All these options are either in Millenia or nearby at Otay Ranch Town Center. You never have to go far to enjoy a great meal!
Walk to Lunch or Dinner—Right in Millenia
There are lots of great places to eat in Millenia already and many more slated to open in 2019 and 2020. From fresh ceviche to grilled cheese sandwiches, Mediterranean food, and chicken wings, there's plenty to satisfy your taste buds—all within walking distance!
1. Board & Brew™
The place to go for specialty sandwiches packed with fresh ingredients, plus refreshing craft beer. Their Secret Sauce (vegan, gluten-free, nut-allergy-free) will have you thinking about your next visit before you're even finished this one! Perfect for a casual date night or for a fun family meal, with sandwiches and salads at $8 to $10 each.
2. Ceviche Craft
Fans of ceviche will love this new addition to Millenia when it opens in Fall 2019. At the casual-dining restaurant in Chula Vista, you'll be able to build your own ceviche bowl with fresh, delicious, nutritious ingredients.
3. El Tianguis
Another casual spot opening early in 2020, El Tianguis will serve delicious rolled taquitos packed with all the traditional ingredients. Beef, chicken, vegetarian, and vegan options means everyone can enjoy something from El Tianguis! Taquitos start at 3 for $5 and go up to 12 for $15.
4. Luna Grill
Luna Grill's Mediterranean menu is inclusive, supporting diners with preferences and restrictions like:
Vegetarian
Vegan
Gluten-free
Dairy-free
There's something for everyone, making this a great family restaurant and a good option for casual dates and dinners. Salads and appetizers start around $5 and signature plates at $10 to $15. There's also a kids' menu, at $6 per portion for options such as burgers and quesadillas.
Don't want to wait until the new location opens up in Millenia? There's a Luna Grill® on Otay Lakes Road!
5. Hurricane Grill & Wings
Wings, tenders, wraps, and salads, plus delicious sides such as Mexican street corn and bacon & jalapeno fries—this is a great place to satisfy your spicy side! And there are over 30 flavors of wings from which to choose, so everyone gets what they like best. Perfect for family nights and casual dining, with salads, sandwiches, and sides from $5 to $10 and wings and tenders starting at $10.
Hurricane® Grill & Wings is coming soon to Chula Vista!
6. The Winner's Circle
Located inside the AYRES Hotel at Millenia, this lobby lounge bar is great for an evening drink and a snack or light meal.
Dine Nearby at Otay Ranch
Whether you're looking for a casual family restaurant or a romantic date-night location, these options have you covered! All these restaurants are in nearby Otay Ranch Town Center, within walking distance of Millenia.
7. P.F. Chang's
Enjoy casual dining with an Asian-inspired twist, with signature dishes such as Mongolian beef, P.F. Chang®'s spicy chicken, and crispy honey shrimp. Also on the menu are classic favorites like dim sum, sushi, noodles, and rice, with gluten-free and vegetarian options and a kids' menu. Enjoy a family meal or casual dinner, with a wide range of price options: from $5 to $15 for starters and soups and from $15 to $30 for main dishes.
8. The Cheesecake Factory®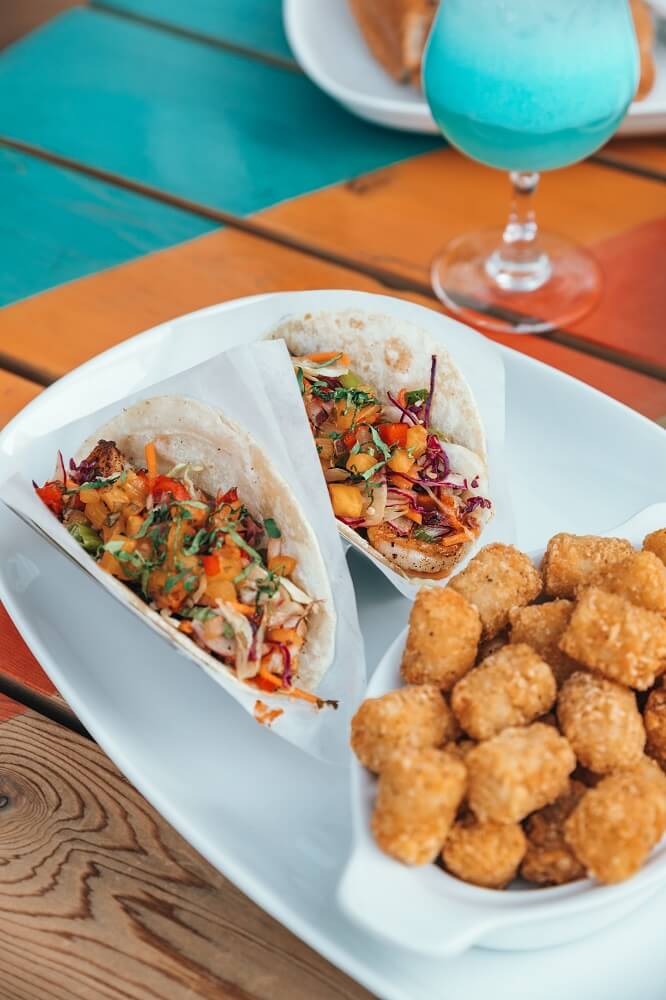 A firm favorite with many families and anyone who loves the rich, creamy cheesecake and other delicious desserts on offer! This is casual dining at its best, with a menu that includes:
Pastas
Pizzas
Soups
Salads
Dozens of cheesecake flavors
There are vegetarian and vegan options, plus a kids' menu too. Prices range from $5 to $15 for snacks and starters and between $10 and $30 for main dishes.
9. Savoie Italian Eatery
Fine Italian food at its best, with a mouth-watering menu of pizza, pasta, and salads, along with delicious burgers, steak, and other popular dishes. Ideal for a special family night out, a romantic date, or any other big occasion. Prices range from $8 to $15 for starters and salads, $12 to $20 for mains, and $30 to $40 for specialties such as Chilean sea bass and filet mignon.
10. Karina's Mexican Seafood
If you love seafood, this is the place to go! From jumbo shrimp to fresh ceviche, fish tacos to traditional surf & turf, Karina's offers all kinds of succulent seafood. The location is gorgeous, and the Chula Vista restaurant has a fun atmosphere too. Open for lunch as well as dinner, Karina's is great for casual dining and romantic dates. Expect to pay upwards of $30 per person for an evening meal.
11. Buffalo Wild Wings
Check out the fun sports bar atmosphere, delicious wings, and a range of other bar-style menu options. Along with all the wings and sauces you could want, the menu includes:
Burgers
Sandwiches
Salads
Tacos
A kids' menu
Enjoy a family night out or casual date night at Buffalo Wild Wings, or head over to watch the big game with friends with wings and drinks on the side! Prices range from $5 to $10 for snacks and sides, and $10 to $25 for salads, wings, burgers, and sandwiches.
Snacks and Beverages
Looking for a place to grab a quick coffee or a snack while you're out and about in Millenia? Check out these locations at Millenia Commons!
Starbucks – All your favorite coffee drinks and delicious baked goods
Menchie's Frozen Yogurt – Perfect for a sweet treat anytime!
Iceskimo – Along with its signature shaved ice desserts, enjoy drinks, soft-serve, and delicious waffles. Look for this one at the end of 2019.
Nestle® Toll House Café – Another great place for coffee and snacks
Jamba Juice – Grab your favorite juices and smoothies to go!

Whether you're looking for coffee and on-the-go snacks, a family-style eatery, or a classic restaurant for a romantic date night, there are so many options close to Millenia. Bon appétit!