Moving to a new place can be exciting. A new house feels like a fresh start, and if you're moving to a new job or your kids are starting a new school, it feels like a chance to change your life too! The downside of moving is that it takes time to feel settled in your new place. How to make a house feel like a home, when you've only just moved in? There are a few things you can do to hurry that feeling along. Try our simple packing and moving tips to help your new house feel like home right from the start.
Packing and Unpacking
Many people don't realize that homey feeling comes from having things organized and in their places and getting back to a normal routine. If you pack and unpack efficiently, you'll be able to establish those routines much sooner.
1. Organize Your Packing to Make Unpacking Easier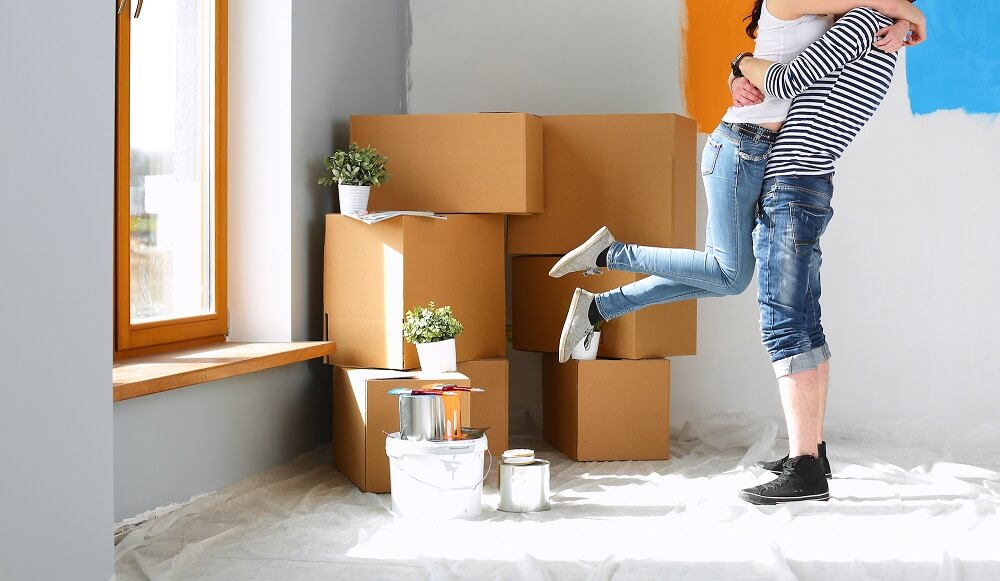 One of the big barriers to making your house feel like a home is all those boxes! They make your new place look chaotic and disorganized. So when you're packing at your old place, be systematic and organized to make unpacking easier.
Pack up a "new home box." Fill it with items you'll want on hand right away in the new place. For instance, everything you need to make coffee—the coffee pot, mugs, coffee, and so on. Add a roll of toilet paper, cleaning products, and similar items. Then you won't need to hunt through boxes to find those things once you get to the new place.
Pack by room, not by item. In each room, pack up all the items that belong there into boxes, then label them according to the room they'll go in at the new place. At the new house, make sure all the boxes go to their respective rooms immediately. It'll make unpacking faster and easier, and you won't have to weave through big stacks of boxes in the main space.
Label everything clearly. Make sure every box you pack is clearly labelled by room, so it's easy to see where it should go in the new place. It's also helpful to write a quick list of the contents on the side or top of the box. Then you can prioritize your unpacking.
2. Unpack and Set Up Room-by-Room
Unpacking often feels like utter chaos. Even when you intend to be organized, it's easy for all your plans to get lost in the shuffle, especially when there are children and pets in the mix!
One way to make sure you stay on course is to work room-by-room. Unpack each room, putting away as many items as possible before moving to the next room. You'll make order out of the chaos a lot faster than if you work on multiple rooms at once. And you'll keep your momentum going for longer, with a welcome sense of accomplishment for every finished room.
3. Set Up the Bathrooms First
Most people unpack the living room or kitchen first. Instead, consider doing the bathrooms first. Why?
They're the smallest rooms and don't hold many items. Unpacking and organizing will be quick, and you'll get your first boost of accomplishment much sooner!
It will be one of the rooms you need first. If everyone can use the bathroom in comfort and take showers in comfort at the end of the day, it'll help you feel that things are getting back to normal quickly.
4. Go for Living and Sleeping Areas Next
Once the bathrooms are set up, the living areas are generally the best choice. This typically means the living room and kitchen—areas where your family spends most of their "together" time. Getting these areas done will help bring a sense of routine and normalcy, so they're an important part of making your new house feel like a home.
Once these areas are done, go ahead with bedrooms. Any other rooms can be done after bedrooms; for instance, a home office, playroom, or spare bedroom. These can safely be left to last, after all the family's living and sleeping areas are finished.
Even if you don't get around to unpacking bedrooms on the first day, take a few minutes to make the beds before evening. You'll feel much more at home if you can slip into clean, fresh sheets with your favorite pillows and blankets.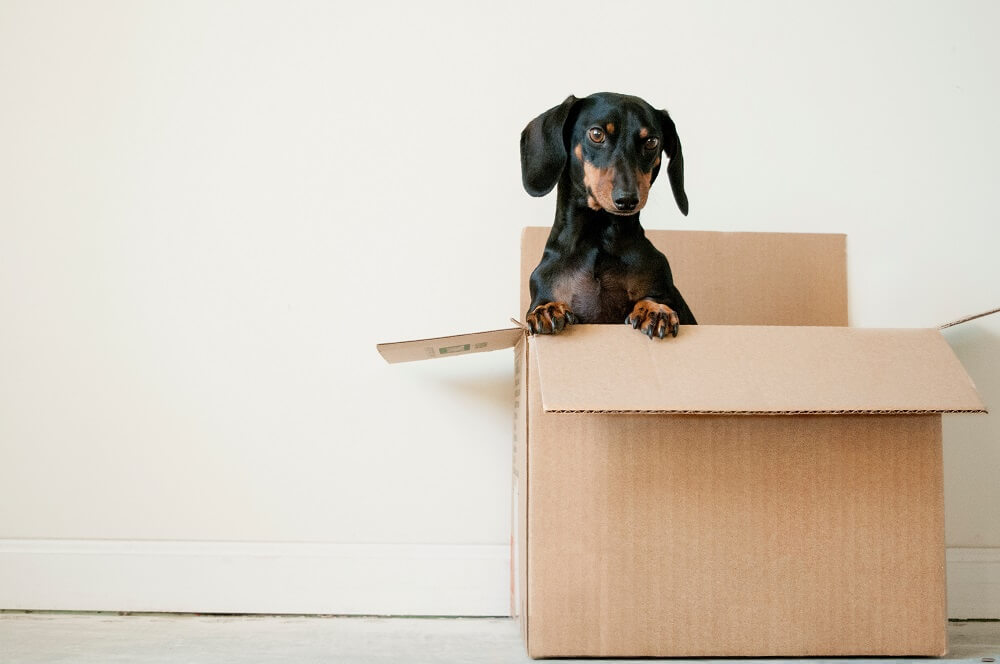 5. Organize Kids and Pets
If you have kids who are old enough to help unpack, make sure they do their share! It's easiest if each child is responsible for unpacking their own things and setting up their own rooms. Most kids get excited about establishing and decorating their own spaces, and this will leave you free to organize the rest of the house.
Have pets? Help them get settled faster by unpacking their food and water bowls and bedding as soon as they're at the new place. Set them up in a quiet room, such as a spare bedroom or home office. This will reduce their stress levels and ensure they're not underfoot while you're unpacking.
Decorating Indoors and Out
Even after you've finished unpacking, the house may not feel like home yet. This is common, especially when you move into a newly built house. If you're still wondering how to make a house feel like a home, the next step after unpacking is to start decorating. Use your own home décor items to make the new place feel more familiar, and put your personal stamp on it with fresh decorating ideas too.
6. Start with a New Coat of Paint
Whether you're in a newly built house or in an apartment, one sure-fire way to make it feel like yours is to redecorate! Fresh paint or new curtains are quick, simple ways to make a change. As your family's personality makes its mark, it'll start to feel like it's always been home.
Note that if you plan to freshen up the paint, lay new floors, or similar DIY projects, it's generally better to do them before moving in. If that's not possible, aim to paint or lay floors before unpacking the rooms you plan to redecorate.
While you're at it, think about painting the front door. This is a popular way to put your stamp on the house from the outside in. Personalizing your new front door is fast and easy and will remind you that you're home every time you enter.
7. Make a Cozy Space with Familiar Elements
If you're like most people, your best-loved possessions travel with you from house to house. The sights and sounds of home are in the people you love and the things you've owned and treasured for a long time. Instantly add an element of home with familiar items from your old place—a kitchen clock, a colorful living room rug, or your favorite throw. In the bedroom, add coziness with pillows, scented candles, or fresh-cut flowers.
Creating a cozy space in the living room is a great way to help you feel more settled when you move in. Moving is exhausting, so why not order take-out, watch a movie, and hang out together for your first night in the new home?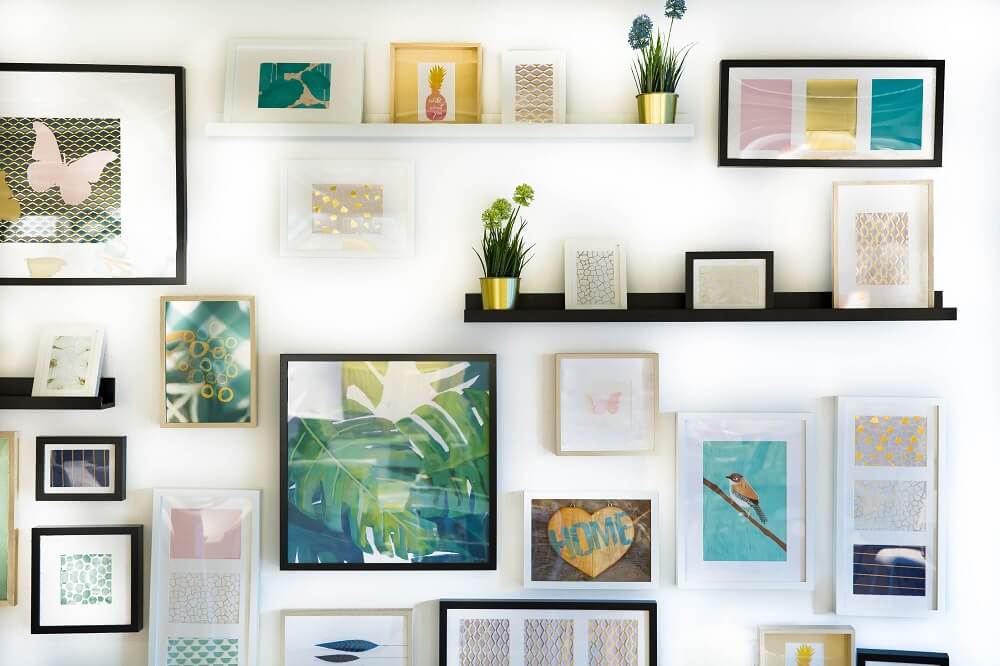 8. Hang Art You Love
Empty walls can really stand in the way of a house feeling like a home. It's easy to change that by hanging art in the spaces you use most often. Hang pieces you brought with you, like—family photos, paintings, or prints—and choose some new ones to create a mix of old and new. Your new home décor doesn't need to exactly match what you had in your old home, but hanging art from your old place will definitely help it feel home-like more quickly.
9. Decorate Your Outdoor Space
If you have a green thumb—or if you just enjoy having plants around—planting a garden can be a wonderful way to personalize your home. Whether you have a patio or a yard, there are lots of flowering plants, herbs, and even veggies and fruits you can plant and enjoy for months and years to come.
Growing a garden takes time, and while you may not be able make your plants grow faster, they can look attractive in the meantime. Attractive planters are perfect for patio gardens, and they work well in backyards too. Patio furniture and accessories such as an umbrella, awning, or wind break, add both an esthetic and a practical aspect to the space.
Although you have to wait for plants to grow, station a birdfeeder on your patio or yard to add interest and activity to your outdoor area right away. Hanging feeders are perfect for smaller birds, including vireos, finches, and warblers. Platform feeders will attract robins, doves, and jays to your garden. To attract hummingbirds and orioles, choose a nectar feeder.
Home Is in the Details
Even if you're excited to move into a new place, it's likely to feel unfamiliar for the first few days or weeks. Unpacking, organizing the new place, and redecorating will all help. And there are a couple other things you can do to help that new-house feeling fade more quickly:
Establish your normal routine right away, and create spaces for those routines to develop – For instance, if your family always leaves bags, keys, and coats by the front door, create a space with a table, hooks, and key holders, so everyone can keep up their new habits in the new place.
If there's a holiday or special event coming up, make a point of celebrating in a splashy way! – Decorate for Christmas, or throw a party for an upcoming birthday.
If there aren't any holidays or birthdays coming up, throw a party anyway – Invite family or friends for dinner, let the kids have a sleepover, or invite your new neighbors over. Sharing your home with the people in your life will create new memories and give you a sense of pride in your new surroundings.
Get to Know Your New Neighborhood
Once you're all moved in and getting started with decorating, your house will feel like a home in no time! Apart from unpacking, decorating, and other home ideas, simply spending time at your new house will help it feel more settled and familiar.
And don't forget to take a break from the hard work of moving in! As a resident of Millenia, you'll be able to walk to the nearest park in a couple of minutes. Enjoy some outdoor time, and get to know your new neighborhood!