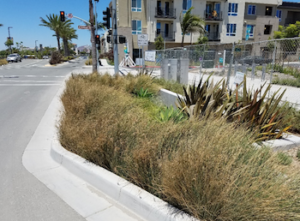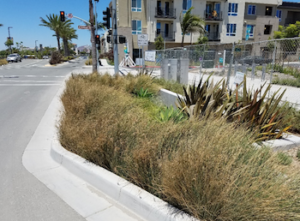 Designed as an urban hub in a suburban neighborhood, innovation is the foundation of Millenia. Life at Millenia maximizes all components of life, from the way we live, to the way we shop, to the way we commute. Those who visit and live in Millenia appreciate the aesthetics of its new-styled, urban environment, but did you know that Millenia not only looks different but it functions differently too? Just take a look at at any one of the 105 traffic intersections in Millenia. Those landscaped islands of rushes and grasses do more than soften the ultra-urban environment. The plants you see surrounding each stop sign at Millenia are actually well-known for their bio-filtration qualities. This means that these plants look great while helping to manage stormwater at Millenia at the same time.
(Insert pic: "These plants look indigenous to the area but were actually specifically selected for their ability to cleanse stormwater.")
Innovation From the Ground Up
Stormwater? When was the last time you thought about where all that liquid goes when it falls from the sky? After five years of drought, a winter like this one comes as something as a surprise. With all the talk about conservation lately, it's hard to remember the problems caused by too much rain. After every heavy rainfall our beaches and bays have to close for a few days because of stormwater pollution. While you and I may not have given much thought lately to the pollution caused by excessive rain, Millenia was engineered and constructed with innovative, built-in solutions to the environmental challenges of rainwater.
Since the Clean Water Act, rainwater that runs through our neighborhoods needs to be cleansed before it flows into our oceans. Eastlake and Otay Ranch accomplished this by diverting water to Poggi Canyon Creek where it is naturally filtrated by vegetation. Millenia could have done the same but instead they decided to take a fresh look at the best way to handle stormwater, just like they took a fresh approach to the way people live, work and shop at Millenia. Meridian development, the developers of Millenia who are committed to creating communities that will be environmentally sustainable for generations to come, realized that treating water close to the source of pollution would be better than letting it travel for miles, collecting even more pollutants on the way. Instead, they developed a revolutionary three-pronged system that handles Millenia's stormwater at the neighborhood, project and regional level.
Millenia: A  Community that Cares about the Environment
This revolutionary, sustainable stormwater strategy utilizes nature to manage stormwater runoff where it falls.  "The treatment of our stormwater runoff is an increasingly important consideration in designing sustainable communities. At Millenia we have crafted a stormwater management system which balances excellent functionality with a high-quality design aesthetic," explains Todd Galarneau, Executive Vice President of Meridian Development.  Here are just some of the ways Millenia revolutionized stormwater detention, treatment and hydromodification:
Utilize a specially formulated soil medium on all public areas that is 18 inches deep but highly permeable. This special soil allows greater absorption which reduces the overall stormwater totals at Millenia.
Incorporate a combination of both natural and mechanical stormwater filtration implements at all traffic intersections within the Millenia. The most technologically advanced storm drains available, they are camouflaged by a natural palette of grasses and rushes that are known for their filtration abilities.
Include 3 underground vaults for stormwater in order to collect the runoff and then release it at a metered rate. Releasing this runoff at a pre-determined rate reduces peak flow and prevents flooding after heavy rain.
And the Winner is…
Millenia's innovative approach to stormwater management earned them the coveted Leadership in Energy and Environmental Design (LEED) certification. LEED certification (http://www.usgbc.org/leed)  is awarded by the US Green Building Counsel and recognizes smart growth and green building in new construction. Natural Resources Defense Council and the Congress for New Urbanism also recognized Millenia for its commitment to the environment.  Come live, work and play in a community that cares as much about the land that its built on as the buildings themselves.