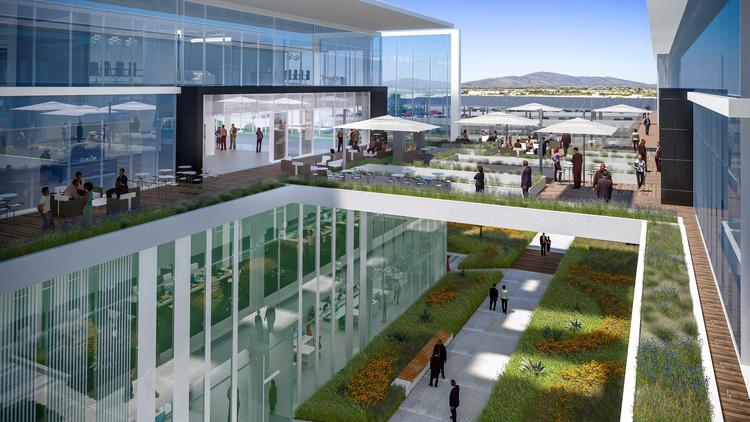 Millenia Communities is already a great place to live with the Pulse apartments and attached homes at Evo, Trio, and Metro, but Millenia took one step closer with THINK to its vision of becoming the ultimate destination where San Diegans can live, work, and play when the Chula Vista City Council unanimously approved Millenia's first of three cutting-edge office complexes.
Dubbed "Think" by developer Lee Chestnut, the project features two buildings with over 318,000 square-feet of work space and a 6,100 square-foot pavilion containing a state-of-the-art fitness center and restaurant.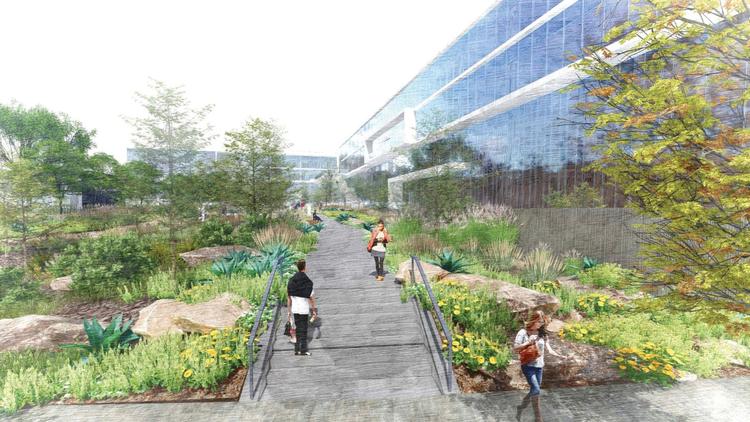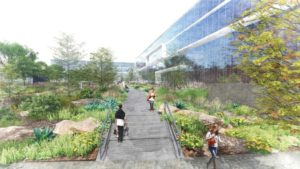 With an uber-contemporary design, the exterior of "Think" will be composed of varying shades of glass with complementary metal columns and bridges, walkways, and overhangs to add visual interest to the façade. "Think" was thoughtfully designed with as much importance on the exterior landscape as on the interior office spaces in order to empower employees by providing them with maximum flexibility to work and socialize.
"Think" was also conceived to contribute to the vitality of its inhabitants by being health and environmentally conscious. The landscape of "Think" will be highly water-friendly and will mirror that of the natural environment. "Think" also plans on being the first commercial project in San Diego County to achieve the newly-established Well-Building Standard.
"We're excited. We think we're going to be having conversations with Silicon Valley-type tech companies that would like to look for expansion opportunities."—Lee Chestnut, Chestnut Properties.
Chestnut, already anticipating a warm reception from tech companies like Google and Facebook, has plans to follow "Think" with two-more cohesive complexes:
"Discover"—400,000 square-feet tailored to biologic and life science companies.
"Invent"—700,000 square-feet designed for companies who need large-scale facilities.
Perhaps the best feature of "Think," is its 6-story parking structure. "Think" will make Millenia's urban-meets-suburban lifestyle even more accessible by offering 1,373 parking spaces available for public use. Thanks to "Think" finding a place to leave your car will never be a hassle at Millenia like it is at other urban centers.
"This project, I think, is going to be one of the hottest economic development hubs that we're going to see for the next two decades for the whole county of San Diego." –Mayor Mary Casillas Salas; Chula Vista, California.
Welcome to Millenia, Silicon Valley. You're going to like it here.
Click here to watch the Chula Vista City Council Meeting where plans for "Think" were presented and approved. Coverage includes in-depth presentations including artist renderings, as well as comments by the developer and many other proponents of this exciting project.